Sara from MumTurnedMom gave us another great prompt with this quote from Roald Dahl:
"Those who don't believe in magic will never find it."
It seemed fitting to write a poem for this one…hope you like it 🙂
Do you believe in magic?
"Abracadabra!" I do.
Card tricks, escapology,
Awesome illusions too.
Dreams have a magical feeling,
Like Disney, through and through.
Witches; mermaids; dogs that talk;
An elephant that flew!
Fireworks make the sky magic,
Making us "aah" and "ooh!"
But only in large spaces please,
So our pets don't get in a stew.
Good magic means you're in the pink,
Black magic can leave you blue.
There's magic in favourite fairy tales,
Remember how Jack's beanstalk grew?
What about unicorns and dragons?
They may be less than true.
But I'd rather believe than not believe,
Be honest, wouldn't you?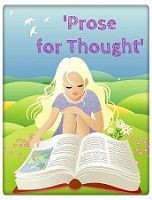 (Visited 794 time, 1 visit today)