A lovely prompt from Sara at MumTurnedMom as lots of you approach the end of school Summer holidays. Some of you will be feeling rested. Some of you will be feeling like you need a holiday now! But, hopefully, all of you will have made some Summer 2014 memories 🙂
I remember the longest day,
Sunshine took our cares away;
Summer was a valid season,
Shorts and vest tops had a reason;
Skies were blue and clouds were white;
So was my skin; quite the fright!
Always busy, no time to tan;
Keeping cool with a battery fan.
Weeks at home away from teasing.
Mini milk ice creams, oh so pleasing.
Holidays with sand and sea,
Making dens, my brother and me.
Grandad's garden, flowers in bloom;
Playing out freely, no thought of gloom.
Going everywhere on our bikes,
Thrown down on arrival, little tikes.
Schoolbooks packed away with glee,
Never had we felt so free.
But all too soon it had to end.
With Autumn's arrival around the bend.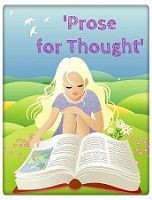 (Visited 54 time, 1 visit today)