She gathered her thoughts and then gathered pen and paper.
As her tears flowed so did the words, but, too many words, she didn't want to ramble, she just wanted to express herself. Express her thoughts, express her needs, express her hopes and her fears. She wanted to do this succinctly and eloquently though, not drown the page with the emotionally charged ramblings of a desperate woman!
One, and then several, paper balls made their way into the waste basket that afternoon. This was not productive, she needed to get this down and have the letter done before he came home from work and discovered her. He would be expecting a meal being readied but she couldn't even put a sentence together, let alone a lasagne!
She knew what she wanted, no, needed, to write, so why was it so hard to put a few words in the right order? She took a deep breath and picked up the pen once more. Pausing only briefly to glance towards the bag by the door she started to write…
Dear John,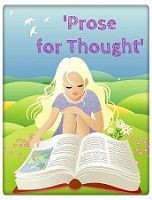 (Visited 75 time, 1 visit today)