It may have been due to my low mood that I didn't feel inspired by any of my regular writing prompts this week, but, I wanted to write something creative and I didn't want it to be upsetting which, had I used my own thoughts, it may well have been!
Asked my old friend Google for advice and he found me a website called Writing Exercises. It doesn't look to be updated very often but it has a wonderful thing that will generate a random first line for you!
So, here's my effort for this week's Prose For Thought at Verily Victoria Vocalises. I think it also suits Sara from Mum Turned Mom's prompt this week…solitary.
It was just for one night,
Beneath gentle moonlight,
Such a beautiful sight,
Left her heart feeling bright.
She'd never camped out before,
On the cool forest floor,
She had felt so unsure,
About opening this door.
Stars shone through the trees,
So very eager to please,
They made her feel at ease,
She didn't notice the breeze.
With Mother Nature alone,
Here she was, home from home,
No TV, no 'phone,
New footpaths to roam.
By torch and starlight,
A campfire to ignite,
Anticipation, not fright,
It was just for one night.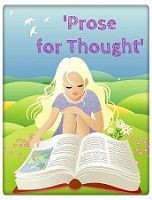 (Visited 100 time, 1 visit today)