I have written 2 poems this week but both were private ones for family.
I was taken unawares when my parents asked me to write something for my aunt's funeral next week. It's one thing to make up a silly rhyme to share on the internet where the delete button can easily be reached, quite another to write something both almost formal and intimate that will be read out in church next Friday.
For a while I didn't think the words would come, but, they did, and, the few people that have read it so far, seem to be content with it. I doubt I'd be able to hold it together to read it too so I think the vicar has offered.
It's being a sad time for the older generation at the moment, we have 3 funerals in 8 days. As my mum said though, that's the three now, the rest of the year will be fine.
So, I decided to give myself a blog poem break this week and, following on from last week's 100 Word Challenge/The Prompt mash-up, here I continue the story a little using Julia's next prompt '…the scent was overpowering…'
Nick and Anna arrived with a little time to spare before their table was booked. While he ordered drinks, she popped to the Ladies.
She'd been pleased with her little black dress choice, but, she was sure the taxi journey had made it ride up to a rather less ladylike length!
A couple of women were re-touching their makeup, another seemed blissfully unaware of how much perfume she'd sprayed. The scent was overpowering but Anna had more important things to worry about.
She re-arranged her hemline then practised her best surprised "yes!" face in the mirror, just in case she her instincts were right.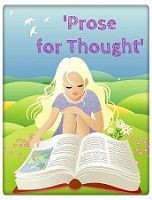 More creative writing can be found every Thursday at Verily Victoria Vocalises 🙂 
(Visited 145 time, 1 visit today)