My own writing this week has been funeral cards and a eulogy so light relief was needed for Prose For Thought in this house. 
If you're waiting for snail mail from me, I'll be catching up this weekend.
The 100 word challenge was a picture prompt with no relevance this week so I decided to continue Nick and Anna's story using Sara's prompt of 'Cinderella' but still limiting myself to 100 words! 
Just as the words "Will you…" fell from Nick's lips, Anna's head was filled with imaginings of her perfect big day.
He would be the Prince Charming to her Cinderella. She wasn't thinking of dresses like meringues per se but was she was thinking extravagant.
She'd seen a film once where doves were released from the church as a symbol of the couple's love and heard of weddings in castles where pairs of swans swam around the moat. The stuff of fairytales, but, wasn't that every girl's dream?
"…move to New York with me? I've been offered a brilliant job."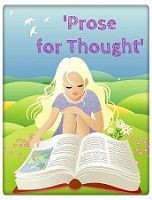 (Visited 2,071 time, 1 visit today)