Nothing new from me this week as I'm still playing catch-up with real life, but, on the day that Richard III gets re-interred at Leicester Cathedral I thought I'd share the poem I wrote for my Great Aunt's funeral last week: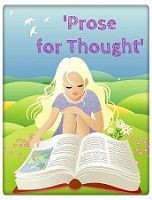 Whether knitting or baking,
In the garden, church pew.
She gave it her all,
Friends and neighbours all knew.
Playing the organ,
Us kids by her side.
In all our endeavours,
True faith, she'd provide.
Nieces and nephews,
Several generations now.
A far-reaching family,
Will miss her, and how.
A long worthy life,
She's always been there.
Strong, independent,
Now in the Lord's care.
Stalwart of Welney,
Proud of the Fen.
Beloved and respected,
God bless Cissie, Amen.
 xox