I trust the label on a favourite brand,
I trust my family to hold my hand,
I trust my feet when they're on dry land,
I trust those footprints in the sand.
I trusted his love right from the start,
I trusted that we were a work of art,
I trusted that we'd never be apart,
I trusted him not to break my heart.
I'm trusting that fate won't let me down,
I'm trusting I'll end up in the right town,
I'm trusting I'll say goodbye to my frown,
I'm trusting in my future countdown.
There's little more important than trust,
When you feel it, grab it, you must.
Without it, hope can turn to dust,
With it, your dreams contain stardust!
****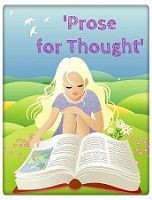 (Visited 85 time, 1 visit today)