It's Prose For Thought time again over at Verily Victoria Vocalises and what better subject to think about than chocolate as it's Chocolate Week?!
I wrote a few little poems last year but wanted to bring something more substantial for 2015. It was harder than I thought though and no words came until yesterday!
Maybe you're not good for me,
But with you I can just be.
You're the one that's remained steadfast,
Through the ups & downs I've passed.
The one never far away from my side,
When I want to run away and hide.
Has to be said you were my first love,
We go together like hand in glove.
No words are needed between us two,
Especially when I'm feeling blue.
Always a comfort, you understand,
You metaphorically hold my hand.
Silky smooth, melting slightly,
Instant pleasure, does delight me.
Deepest brown, or, palest white,
Milk and cocoa, the sweetest bite.
Dear chocolate, how I love you so,
I promise to never let you go!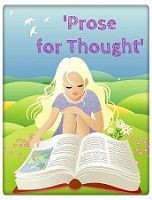 (Visited 69 time, 1 visit today)