Watching you grow is such a joy,
From tiny baby to bouncing boy.
Mummy and Daddy had to wait for you,
And you turned out to be not pink, but, blue.
I remember the first time I saw your face,
Small and precious and full of grace.
Wasn't a fan of babies before,
But saw you once and was in love for sure.
Now you go from strength to strength,
I sit with you and smile at length.
Any time with you makes my heart swell,
And time will fly too fast until that first school bell.
Cuddles with you get better each day,
You reach for me and everything's OK.
Already a poser for a photograph,
You love to play and you love to laugh.
Personality starts to shine through,
My love for you couldn't be more true.
In family tradition you love lots of books,
Devour words and pictures with wide-eyed looks.
On a dark day you're full of sunshine,
Sweetheart, darling, perfect nephew of mine.
It really is a pleasure to watch you grow,
From your tiniest finger to your tiniest toe.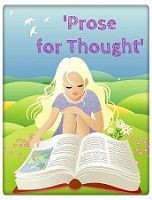 (Visited 100 time, 1 visit today)