Glass
Glass is like a heart,
You must handle it with care.
Both are broken easily,
Without the right hands there.
Delicate, and fragile,
Please treat with respect.
Taken care of tenderly,
Shines more than you expect.
Half full or half empty,
Of water, or, of faith.
Be careful, don't drop either,
Keep them both so safe.
Glass is like a heart,
It needs the gentlest touch.
Trust this simple rule,
You'll be rewarded much.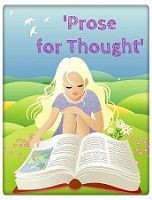 (Visited 82 time, 1 visit today)